Traeger Apple Crisp Smoked Brie
4 min read
Need a great appetizer that really shows off those fall flavors? Fire up your smoker or pellet grill and make this simple Traeger Apple Crisp Smoked Brie!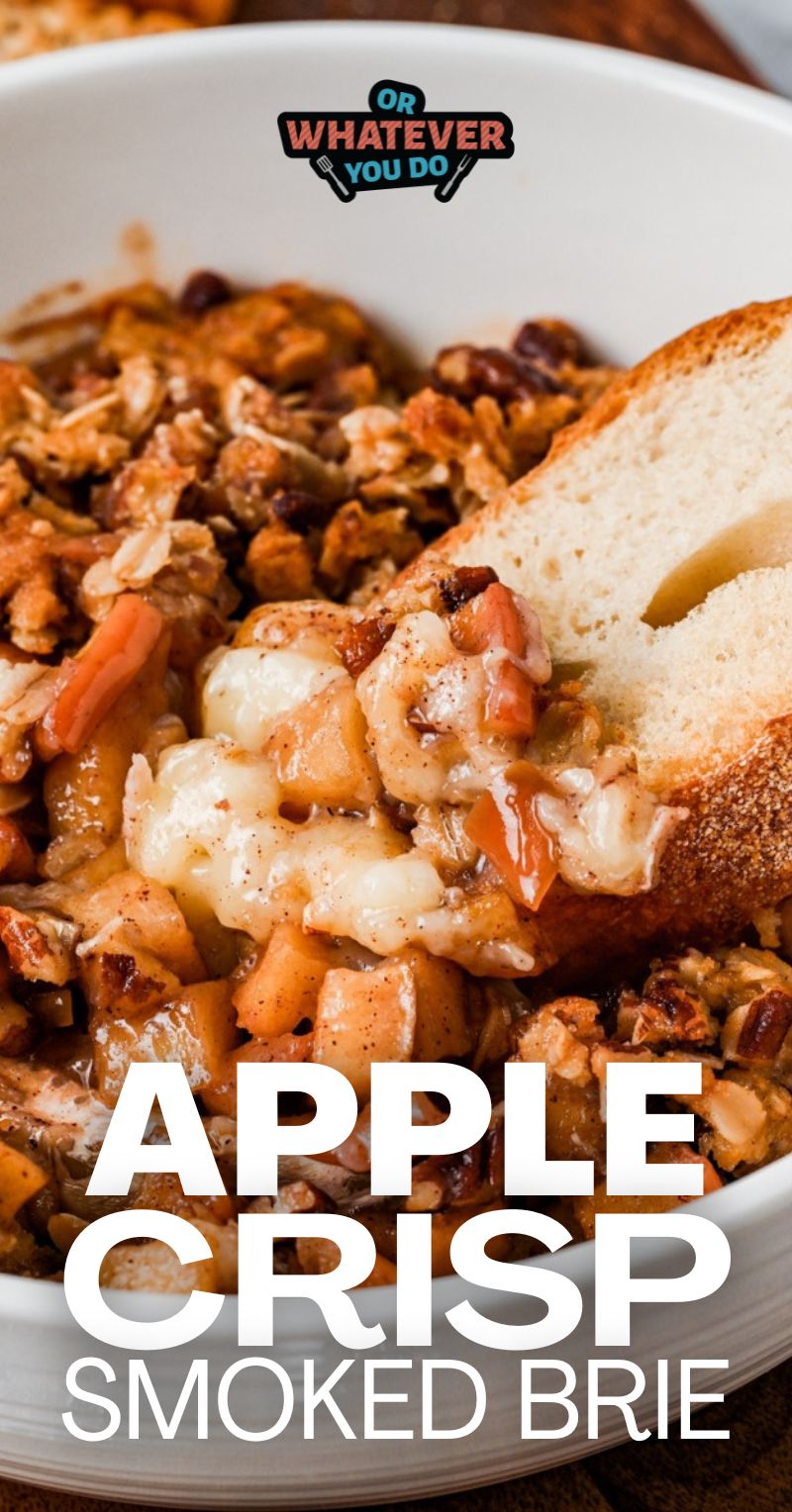 Smoked Brie with Apple Crisp Topping
This simple smoked brie is like baked brie but cooked outside in your outdoor oven pellet grill. When you run the pellet grill at higher temperatures, not much actual smoke gets through to the food. In this case, we only want a touch of smoke, so we're putting this in a 325° pellet grill. If you want to put some more smoke on it, toss it on the grill a little early, while it is preheating, once the grill reaches about 180°.
We precook the apple topping a bit on the stovetop to speed the process along. That way you don't have to worry about overcooking the cheese while you wait for the apples to get tender.
Unlike most of our recipe, this one contains nuts. If you don't like nuts or have anyone with nut allergies in your life that might want to eat this, feel free to omit them. We often do.
With this crisp, the butter matters. Use the best butter you can get. I spring for the fancy Irish butter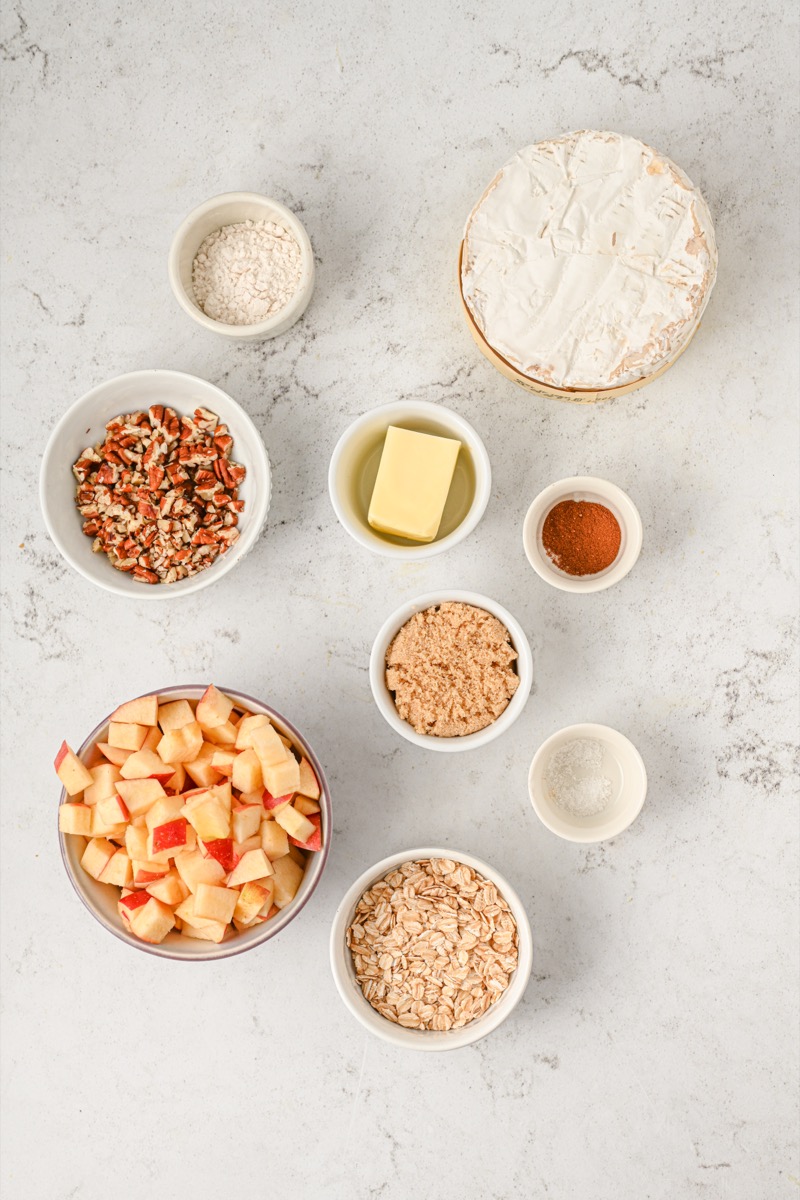 Traeger Apple Crisp Smoked Brie shopping list
Wondering if you have to hit the store? Here's the list of items you'll need to make this recipe. For specific amounts, please refer to the printable recipe card at the bottom of the post.
brie
apple
butter
brown sugar
apple pie spice
rolled oats
flour
salt
chopped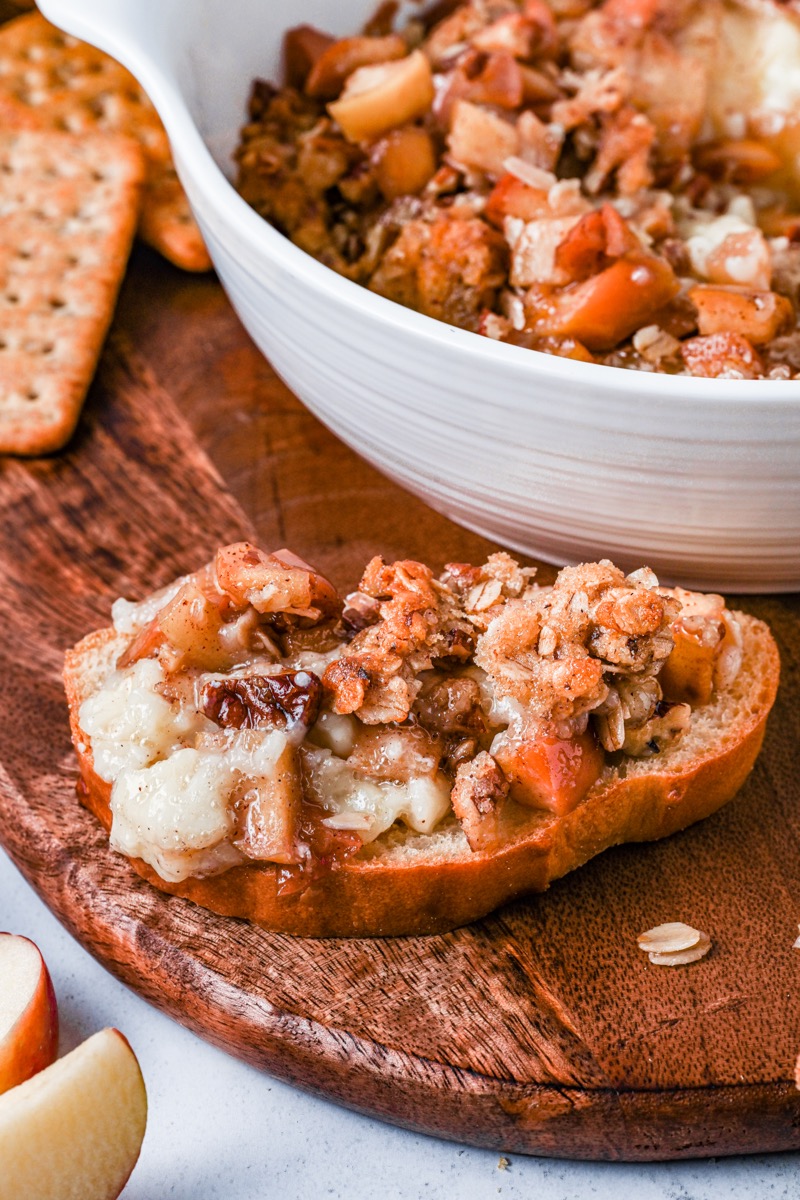 How to make Baked Brie on the Traeger
This is just the overview so you can see what you're actually getting into here. When you are cooking, you'll want to use the full recipe at the bottom of the page.
Preheat
To 325°, or around there anyway. Pellet grills fluctuate. It is fine.
Make the apple mixture
Combine the apples, butter, and 1 tablespoon brown sugar in a pan. Heat over medium heat, and cook for 5 minutes stirring constantly.
Slice the top off the brie, toss it in a cast-iron pan, and top with the apple mixture.
Make the crisp
Combine the brown sugar, apple pie spice, brown sugar, oats, and salt. Add the butter and mix with a fork until it is a crumbly mixture. Add the pecans. Put on top of the apples that are on top of the brie.
Smoke it
Okay, it is actually grilling it, but go with me here. Grill at 325° for 35-45 minutes.
Enjoy
Use your choice of cheese receptacle and dig in! Drizzle with honey, if you are into that sort of thing.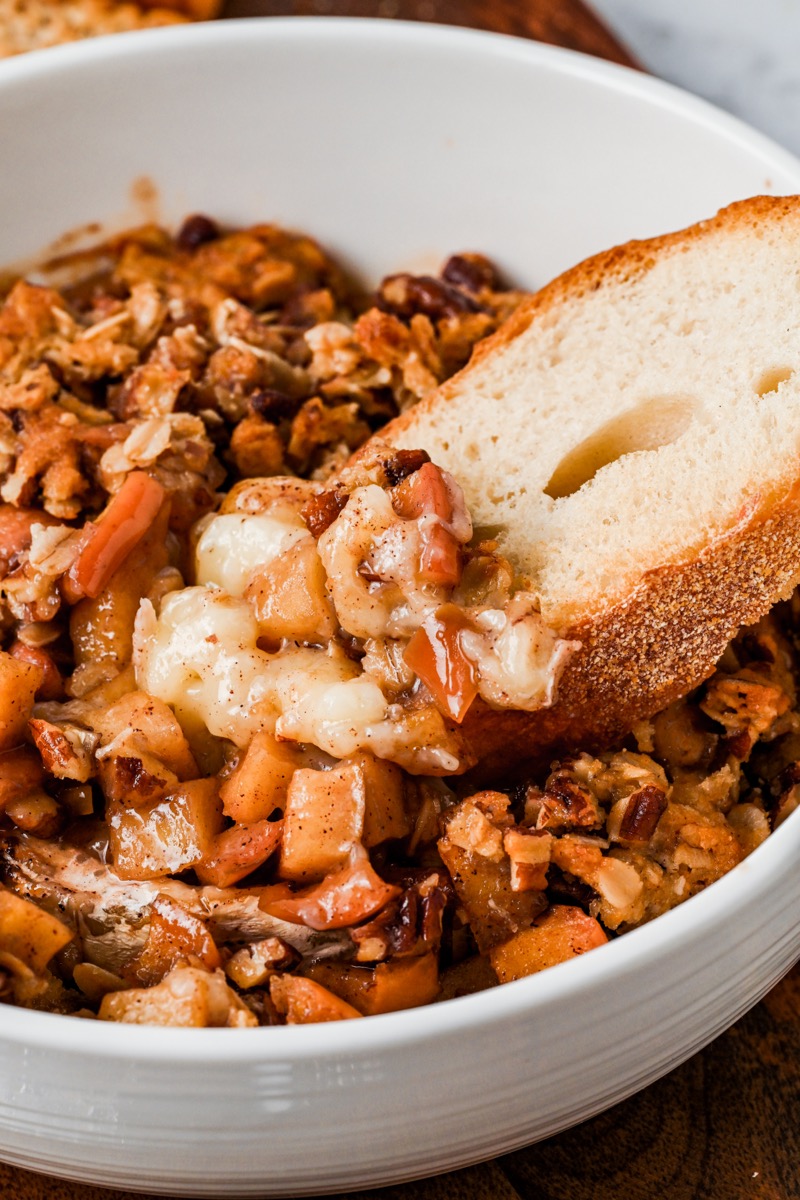 Traeger Baked Brie FAQ
How do you store leftovers?
Store your leftovers in the fridge, covered, for up to 3-4 days.
What's the best way to reheat leftovers?
Reheat back on the grill or in the oven for the best results.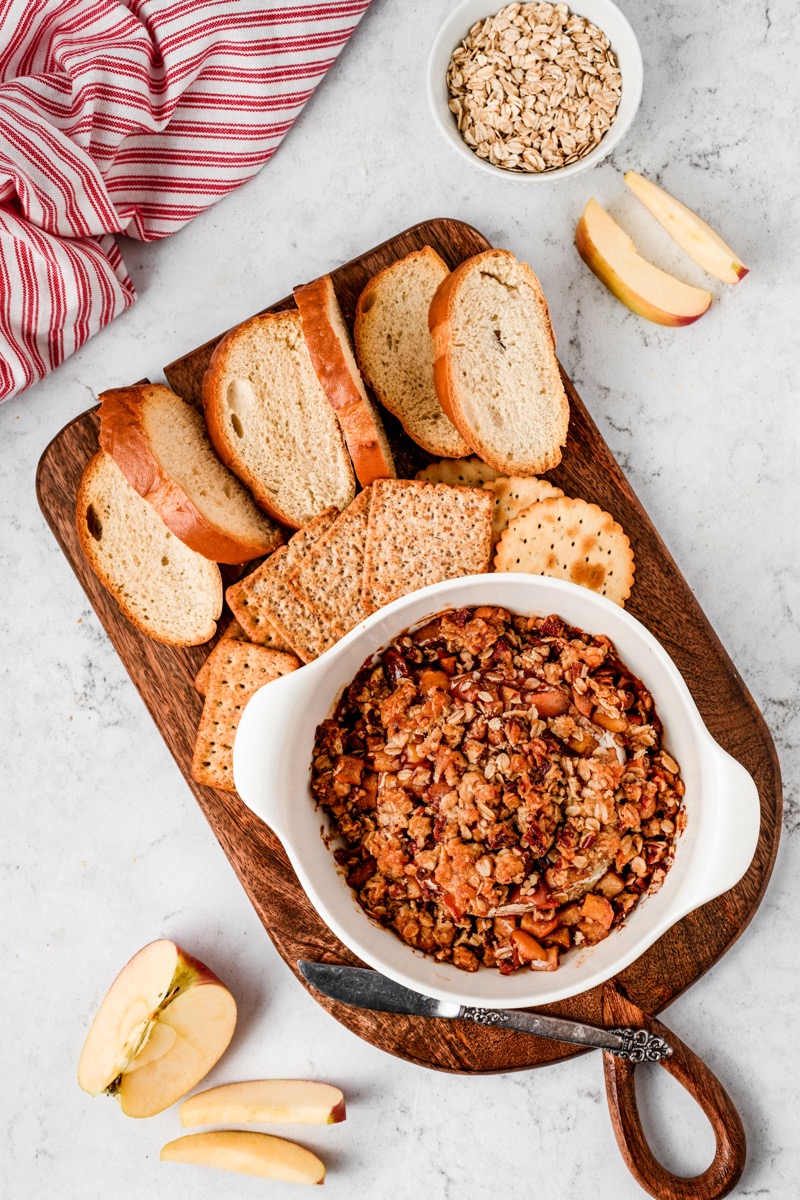 More delicious desserts
Check out these great recipes too!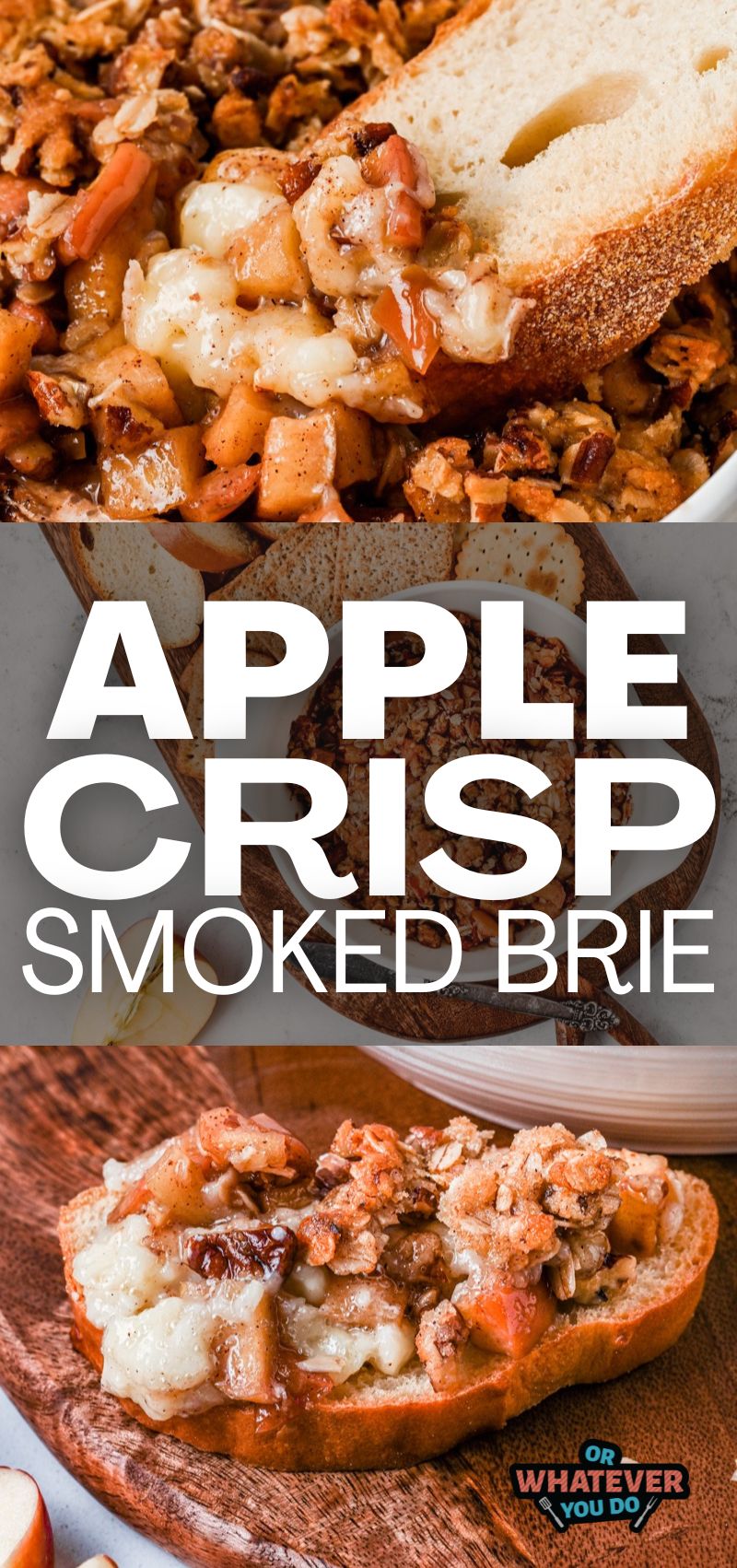 Prep Time
20 minutes
Cook Time
25 minutes
Total Time
45 minutes
Ingredients
Apple mixture
1 large apple, cored and diced
1 tablespoons butter
1 tablespoons brown sugar
Topping mixture
1/2 teaspoon apple pie spice
1/4 cup rolled oats
2 tablespoons brown sugar
1 tablespoon all-purpose flour
1/4 teaspoon salt
2 tablespoons butter
10 pecans, chopped
Instructions
Preheat your Traeger to 325° and spray a medium-sized cast-iron pan with cooking spray.
Combine the apples, 1 tablespoon butter, and 1 tablespoon brown sugar together in a saucepan.  Cook over medium low heat for 5 to 7 minutes.
Cut the top rind off of the brie and place in the pan.  Pour the apples over the brie.
Combine 2 tablespoons brown sugar, apple pie spice, rolled oats, flour, and salt together in a bowl.  Use a fork to combine the 2 tablespoons of butter into the mixture.  Add the pecans and combine.
Pour the topping over the apples.  
Place the pan in the pellet grill and bake for 25-35 minutes, or until the topping is golden and the cheese is melted.
Remove and serve with sliced baguettes, crackers, and apple slices.
OPTIONAL – drizzle with caramel sauce or honey before serving.
Recommended Products
As an Amazon Associate and member of other affiliate programs, I earn from qualifying purchases.
Nutrition Information:
Yield:
8
Serving Size:
1
Amount Per Serving:
Calories: 190Total Fat: 14gSaturated Fat: 8gTrans Fat: 0gUnsaturated Fat: 5gCholesterol: 40mgSodium: 281mgCarbohydrates: 11gFiber: 1gSugar: 7gProtein: 7g
Nutrition data provided here is only an estimate.