25 Irresistible Ways to Eat Grilled Chicken
7 min read
With this handy roundup of 25 Irresistible Grilled Chicken Recipes, you'll be eating like royalty all summer long. Each dish is good for your body and even better for your taste buds – from wraps and sandwiches to salads and kabobs!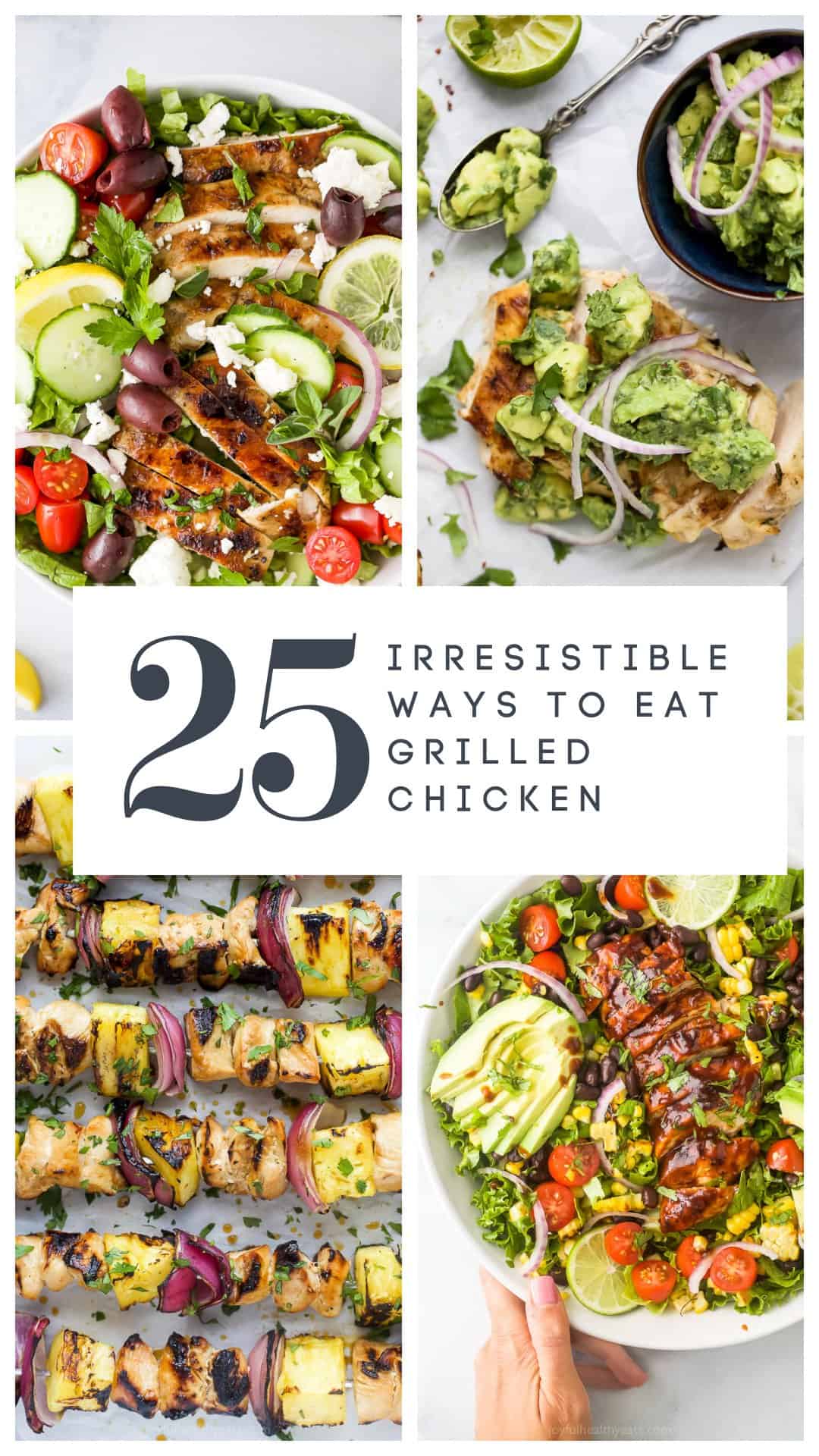 Put Your Grilled Chicken to Good Use
Grilled chicken is on my family's menu from the start of spring to the end of fall. Once you start making your way through this convenient list of crave-worthy recipes, your grill will constantly be cooking chicken as well! Every time you clean your plate, you'll be comfortably full and happy.
These dishes are light, nutritious and chock-full of flavor. All you need to complete your meal is a refreshing drink like a Frozen Margarita and perhaps a grilled side such as Corn on the Cob.
Feeling hungry all of the sudden? Pull out your grill brush, scrub down those grates and get cooking – you've got a lot of amazing recipes to try!
Can Grilled Chicken Be Healthy?
It absolutely can. In fact, chicken is lower in fat and calories than most other meats. It's rich in protein and quite a bit leaner than both pork and beef. When it's combined with other good-for-you ingredients, the deal only sweetens! Get ready to discover dozens of healthy ways to enjoy grilled chicken.
What Is the Best Way to Grill Chicken?
The proper grilling process will differ based on the specific dish you're making, but there are a few important things to look out for whenever you're cooking chicken on the grill. First of all, you'll want to clean off those grates to remove any residue from previous meals. Then it's time to preheat the grill – it's important to let it get nice and hot before your chicken hits the grates.
If the chicken sticks when you go to flip it, let that side cook for a little bit longer. When it's ready to be turned, it should come right off. You don't even have to grease your grill grates (though you totally can if you want to). Once both sides are seared and your chicken's internal temperature reaches 165°F, it's time to remove the meat and let it rest for 5 minutes.
Are Marinades Worth It?
A good old Chicken Marinade doesn't just supply mouthwatering flavor – it also helps to tenderize the meat! Needless to say, it's totally worth the small amount of effort and the brief soaking time. Even just 15-30 minutes of marination will make a world of difference.
If you don't have the time to soak your chicken before you cook it, don't stress. A quality Spice Rub is equally beneficial. As long as you show it some love before you grill it up, your chicken will come out tasting incredible!
How to Prep Chicken in Advance
Wouldn't it be nice to have pre-marinated chicken at the ready whenever you need it? All you have to do is pop that bag into the freezer as soon as you pour the marinade over the meat. Make sure the bag you use is freezer-safe, that you remove the air before you seal it, and that you lay it down flat in the freezer.
Thaw out the marinating chicken in the refrigerator before you grill it. Use it within 24 hours of setting it in the fridge for the best results.
Checking for Doneness
In order to know when your chicken is done, you have to use a meat thermometer to check its internal temperature. Be sure to insert the probe into the thickest part of the meat. Once it registers at 165°F, your chicken is cooked to perfection.
Tips for Flawless Grilled Chicken Every Time
Now that we've covered the basics of grilling chicken, let's touch on a few useful tips.
Pat the Chicken Dry for Crispier Skin: Pat your chicken dry with a paper towel before you pop it onto the grill if you want the skin to get nice and crispy. Place it on the grill skin-side down if applicable.
Utilize Tongs: I recommend using tongs to flip your chicken and remove it from the grill. This keeps your hands away from the heat and prevents you from accidentally burning yourself.
Let the Chicken Rest Before You Cut It: Never cut into your chicken right after it comes off the grill. Instead, let it sit for 5 minutes to allow the juices to redistribute, ensuring tender, juicy meat.
Top 25 Grilled Chicken Recipes
If you enjoy succulent grilled chicken that's bursting with flavor, you're going to adore these healthy recipes. You'll want to go buy a stovetop grill pan just so you can whip up these dishes year-round!
Fresh Mediterranean veggies and tangy feta cheese make this wholesome summer salad stand out from the crowd. Featuring an herby Greek dressing that doubles as a marinade, you won't be able to put down your fork!
Sweet, savory, spicy and smoky, these beautifully charred chicken legs fall right off the bone. They're easy to make and great for feeding a crowd.
Served with a creamy garlic yogurt sauce, there's so much to love about these flavorful chicken shawarma bowls. Fluffy quinoa and fresh veggies make them more than qualify as a complete meal.
These nutty, citrusy chicken skewers are paired with a spicy Thai peanut sauce that you'll want to devour with a spoon. Serve them with a side of your favorite grilled veggies and go to town!
This addicting dish combines classic balsamic chicken with a beloved Italian appetizer – tomato bruschetta! The cool and refreshing topping complements the warm, comforting chicken like a dream.
Homemade pesto sauce, juicy tomatoes, creamy avocado and melty mozzarella are stuffed between two pieces of crusty bread in this fail-proof sandwich. It's easy to make in 20 minutes flat!
These juicy grilled chicken thighs are covered in a glossy chipotle apricot glaze, making them look as scrumptious as they taste. With just a handful of ingredients required to put them together, you'll be making them on a regular basis!
This cheesy chicken pizza is such a satisfying dish, you're not gonna want to share it. Made with roasted cherry tomatoes, fresh basil, minced garlic and more, the combination of flavors is on point.
A variety of fresh fruits combine with spinach, broccoli, pecans and more in this vibrant chicken salad. Drizzled with a sweet, tangy and herby honey dijon dressing, it's summer in a serving bowl!
This simple recipe serves as a shining example of the power of a marinade. With just 15 minutes of soaking time, your meat is infused with amazing cilantro-lime flavor before it's grilled to perfection and slathered with avocado salsa.
Juicy chunks of pineapple add a tropical twist to these must-make chicken skewers. Starring crunchy red onion and a garlicky pineapple marinade for the meat, you'll fall head over heels in love with them!
It's no secret that grilled chicken goes great with pasta – and zoodles are no exception! This Italian-inspired dinner will become a family favorite, guaranteed.
These hearty burgers will instantly make you the most popular person at the barbecue. The patties are moist and tender, the caramelized onions are delightfully sweet, and the BBQ sauce ties it all together so well.
Served over a bed of fluffy coconut rice, these fruity jerk chicken bowls will rock your socks off. They feature creamy avocado slices and a downright delicious mango pineapple salsa.
This 30-minute entree is a restaurant-quality dish that comes together with minimal effort. Made with blueberries, goat cheese, spinach and more, stopping at one serving is unheard of around here!
Regular old buffalo wings have got nothing on this fresh and flavorful chicken salad! An array of healthy veggies including grilled corn and onions make it such a great summer meal.
Bold Asian flavors make this moist and tender grilled chicken an utterly irresistible main course. It truly couldn't be easier to throw together!
Smothered with a tangy chimichurri sauce, these garlicky, smoky chicken legs are pure daydream fuel. They're sure to be a crowd-favorite dish at any cookout or barbecue!
Honey mustard chicken could never ever get old. It's even more delectable when it's loaded into a salad with roasted red pepper, lettuce, sweet corn and more!
Infused with a lovely coconut curry marinade, this Thai-style grilled chicken is a slam dunk every time. You won't find an easier make-ahead entree!
This 25-minute meal is an absolute godsend when I need something quick and healthy. The barbecue sauce caramelizes onto the chicken beautifully, and all of the fresh veggies really help it hit the spot.
Tender buffalo chicken is rolled into a crunchy lettuce cup along with fresh tomatoes and avocado chunks. Once you drizzle on the ranch dressing, you'll be wasting no time before you dig in!
Drizzled with a light and tangy balsamic vinaigrette, this easy Caprese salad is done in a flash! You'll love how it re-imagines the Italian classic.
Speaking of balsamic, these sweet and savory glazed chicken thighs are straight-up divine. They have just the right amount of char on the outside to make them crispy while the inside stays moist and tender.
This tempting chicken sandwich is loaded with healthy veggies and oozing with melty cheese. Featuring a zesty chimichurri sauce, one bite will send you to fajita heaven.
DON'T MISS A RECIPE ->